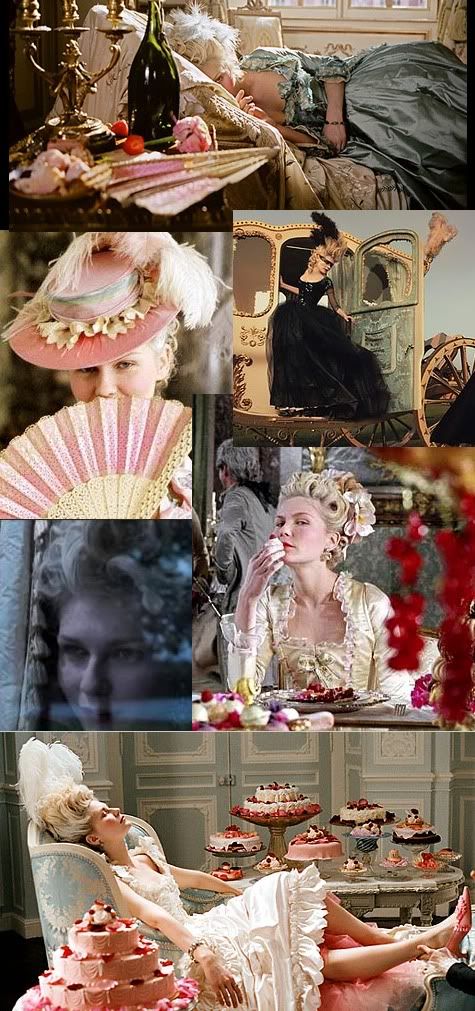 Oh, how I'll love to be Sophia Coppola's Marie Antoinette the entire week!
PS: I had randomly picked up this photo a few days ago & am, therefore, unaware of the source. Once, I get the details, I shall put them up.
I want to chop my hair off, stock lot of cupcakes, and travel around in a Bug.


After sharing the study with my partner for almost a year, I've realised that when it comes to cupcakes & work-space, sharing only leads to calamitous conversations. His Enigma and my Bob Dylan didn't sync either.

From this cosy nook I can now see, albeit at an angle, the pristine grass and bright, dark leaves of the huge tree. Its branches do a peek-a-boo every time the wind swooshes past. But most magical is the winding little concrete path that treads alongside the lawn, and reminds me, strangely, of Alice in Wonderland.

All this vanishes with just a lean back in my chair. Then, rows of buildings and oversize cars appear. That's probably the new wonderland.
I finally found a nook in the apartment that I can call my own! I have half a mind of naming it Xanadu. Maybe I shall.


Spring has been hovering for sometime, officially that is. But, the April showers showed no respect to that little fact. They didn't even do any justice to the bloomingdales. Ah, tyrannies of sorts!

Today, I shall get all my hats out. Time to get the dust off those buddies for Alice shall soon be stepping out with them!
Summer is here!
Current Mood:

cheerful
Johnny Cash, Joan Baez, Cher, Allen Ginsberg, Jimmy Buffett, Andy Warhol and others on their initial meetings with the folk legend.
http://www.salon.com/ent/feature/2004/10/06/dylan/index.html
Dylan was an obnoxious little jerk in many ways. He crashed on couches around town. He was always bummin' stuff. I never thought he'd make it like he did.
-- Ian Tyson, folk and cowboy singer,
Sponge
Bob Dylan concert in London, 1994: After the concert I was invited backstage. I'll never forget the first thing Dylan said to me: 'I heard you can dunk a basketball, and you play great guitar, and I know Carlos Santana wouldn't lie.' It pained me to have to disillusion him on both counts.
-- John McEnroe, tennis player and commentator,
Getting me wrong
My first time with Dylan
Current Mood:

quixotic

Current Music:

Bob Dylan: Gotta Travel On


* I think you're wonderful and so does everyone else.
* Just as Jackie Kennedy has a baby boy, so will you -- even bigger.
* You will meet a tall beautiful blonde stranger, and you will not say hello.
* You will take a long trip and you will be very happy, though alone.
* You will marry the first person who tells you your eyes are like scrambled eggs.
* In the beginning there was YOU -- there will always be YOU, I guess.
* You will write a great play and it will run for three performances.
* Please phone The Village Voice immediately: they want to interview you.
* Roger L. Stevens and Kermit Bloomgarden have their eyes on you.
* Relax a little; one of your most celebrated nervous tics will be your undoing.
* Your first volume of poetry will be published as soon as you finish it.
* You may be a hit uptown, but downtown you're legendary!
* Your walk has a musical quality which will bring you fame and fortune.
* You will eat cake.
* Who do you think you are, anyway? Jo Van Fleet?
* You think your life is like Pirandello, but it's really like O'Neill.
* A few dance lessons with James Waring and who knows? Maybe something will happen.
* That's not a run in your stocking, it's a hand on your leg.
* I realize you've lived in France, but that doesn't mean you know EVERYTHING!
* You should wear white more often -- it becomes you.
* The next person to speak to you will have a very intriquing proposal to make.
* A lot of people in this room wish they were you.
* Have you been to Mike Goldberg's show? Al Leslie's? Lee Krasner's?
* At times, your disinterestedness may seem insincere, to strangers.
* Now that the election's over, what are you going to do with yourself?
* You are a prisoner in a croissant factory and you love it.
* You eat meat. Why do you eat meat?
* Beyond the horizon there is a vale of gloom.
* You too could be Premier of France, if only... if only...

-- Frank O'Hara
Lines For The Fortune Cookies
Current Mood:

happy

Current Music:

Bojoura: If it's Tuesday it must be Belgium


Bull's eye!
Colleague: Cameron Diaz reminds me of a newly-born calf that's trying to stand. She is so gawky that she can never stand perfectly still!
Current Mood:

amused

Current Music:

John Mayer: No such thing
We know this much
Death is an evil.
We have the gods' word for it;
They too would die,
If death were a good thing.

-- Sappho (tr. Barnard)
Current Mood:

amused

Current Music:

Dido
In all this cool
is the moon also sleeping?
There, in the pool?

-- Ryusui (1691-1758)
Current Mood:

indifferent

Current Music:

John Mayer: No such thing


The cab takes a quick turn and steers its way through the morning buzz. There, near the lonely postbox, I see that plump kid again. Stuffed in blue shorts and white shirt, he walks stooped down, probably counting his cub steps. Few blocks later, as we draw near the bus stop, I catch a glimpse of the waif girl. Hands crossed and left leg pointed forward, she stares impatiently, probably awaiting the familiar sight of the bus. As the cab takes a right turn, we go by the playground. I see the athletes warming up for the game. Passers-by stop and linger to watch the players take their position.

The cab now speeds the downhill road. I see that black car still parked casually by the footpath. A few school kids, shops and cars later, the cab reaches the junction where the Boy Scout team maneuvers the traffic. Once past them, it zooms moving head-on. It comes to a screeching halt just outside the station. "Finally," I whisper.

The next day dawns. I grab the morning snack and guzzle my coffee...
I need a new barcode.
I grab the morning snack and guzzle my coffee. A quick glance at the watch and I know I am frighteningly close to the hour. I swipe the keys from the table and dart down the wooden stairway. I call out the cab, get into it hastily and ask the cabbie to make a dash for the station.
Current Mood:

blank

Current Music:

Simon & Garfunkel: Further to Fly